Long legs, long arms, and long summer evenings. Sounds odd I know, but that was my wonderful life in Hoi An just a few months ago. I had made the trip across the pond to experience the famous Hoi An Full Moon Festival, among other things of course. I'd heard such intriguing stories about its charming culture, exciting heritage and ancient history. Unlike other regions in Vietnam, this coastal village, known to locals as 'the peaceful meeting place', was once a major trading port and is now a World Heritage Site. Offering endless attractions and events, there are no wonder travellers flock here for their holidays.
I was told that the Vietnamese are renowned for their excellent service and quality craftsmanship (you can see this in the numerous street markets!), so I thought I'd see if a Hoi An tailor could fashion an attractive suit to fit my ridiculous limbs. I had just a couple of days left of my stay, which in Vietnam is plenty of time to have a bespoke suit measured and fabricated.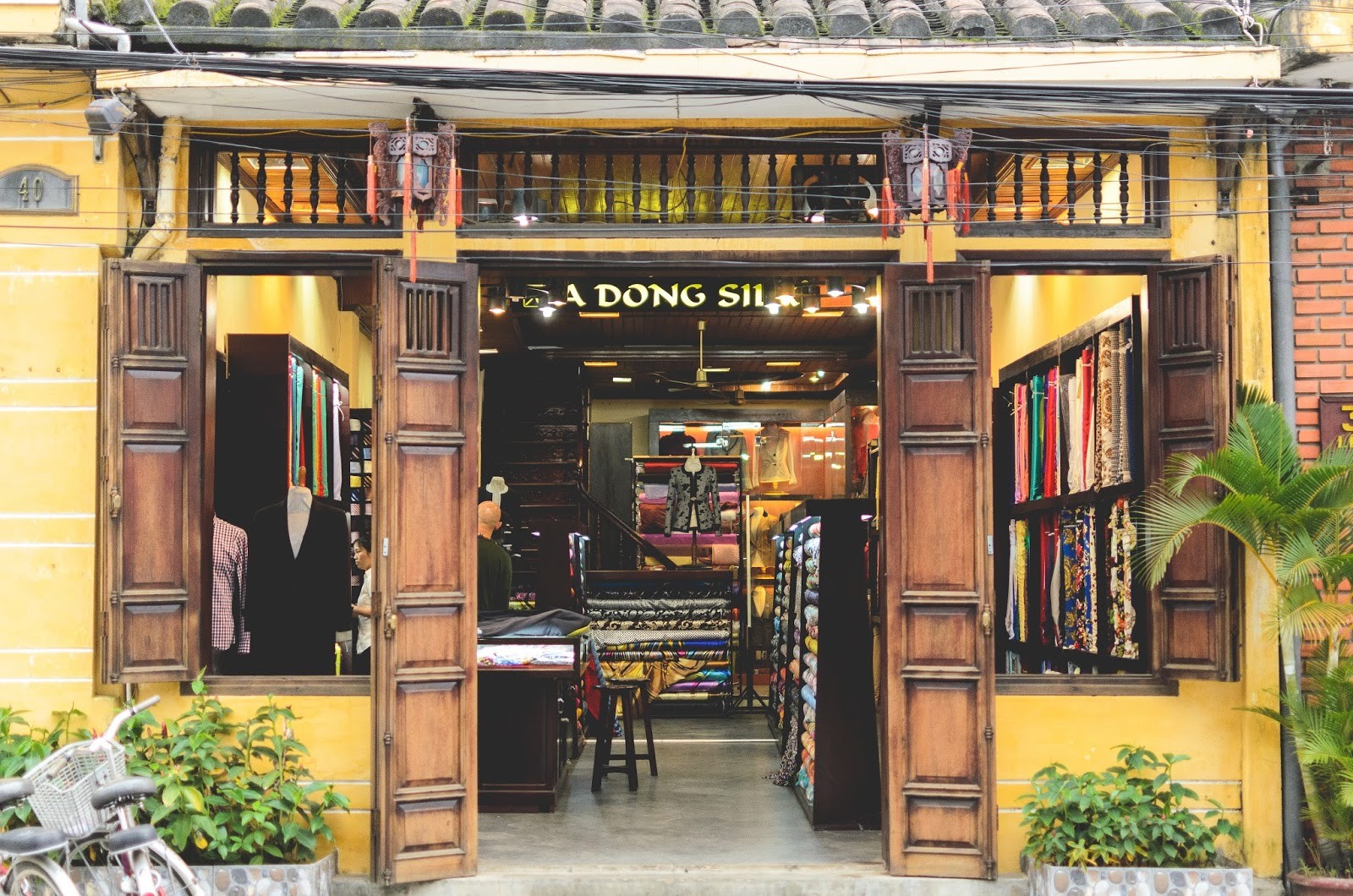 Before I go any further I suppose I should give you an image of my body shape so you can understand how impossible I find suit shopping. I'm six foot two with Mr Tickle arms, broad shoulders and no muscle.
A close friend of mine has had tailored suits made in Vietnam before and I was always so jealous of his perfect length sleeves and covered ankles. I decided to take the plunge and opt for the service with the best reviews and reputation for prestigious bespoke tailoring; Yaly Couture, 47 Nguyen Thai Hoc. As my friends had enjoyed the service before, I knew to ask for the manager to ensure a top-quality experience and was ready to do a spot of bargaining.
I was given a warm welcome as I entered the tailors, with a very large glass of water that was much appreciated!
From the outside, it was definitely the most inviting of those on the street, with a wooden shuttered front giving it that luxury look. Floor-to-ceiling shelving lined the walls, showcasing every material and colour on offer, while exquisite dresses displayed on mannequins took centre stage, showing off the detail and quality of their work.
I was keen to have a casual suit made for summer business trips, but slightly dubious about whether they could really compliment my frame. But this lack of confidence was soon forgotten. The staff listened carefully to my ideas and fabric choices and were eager to make sure I was really happy with their work. I was so pleased with the resulting shape and size! My new trousers had been tailored to my exact measurements and the shirt only needed a slight tweak to account for my broad shoulders. One lovely member of staff even suggested a tie to complete the look. How could I resist?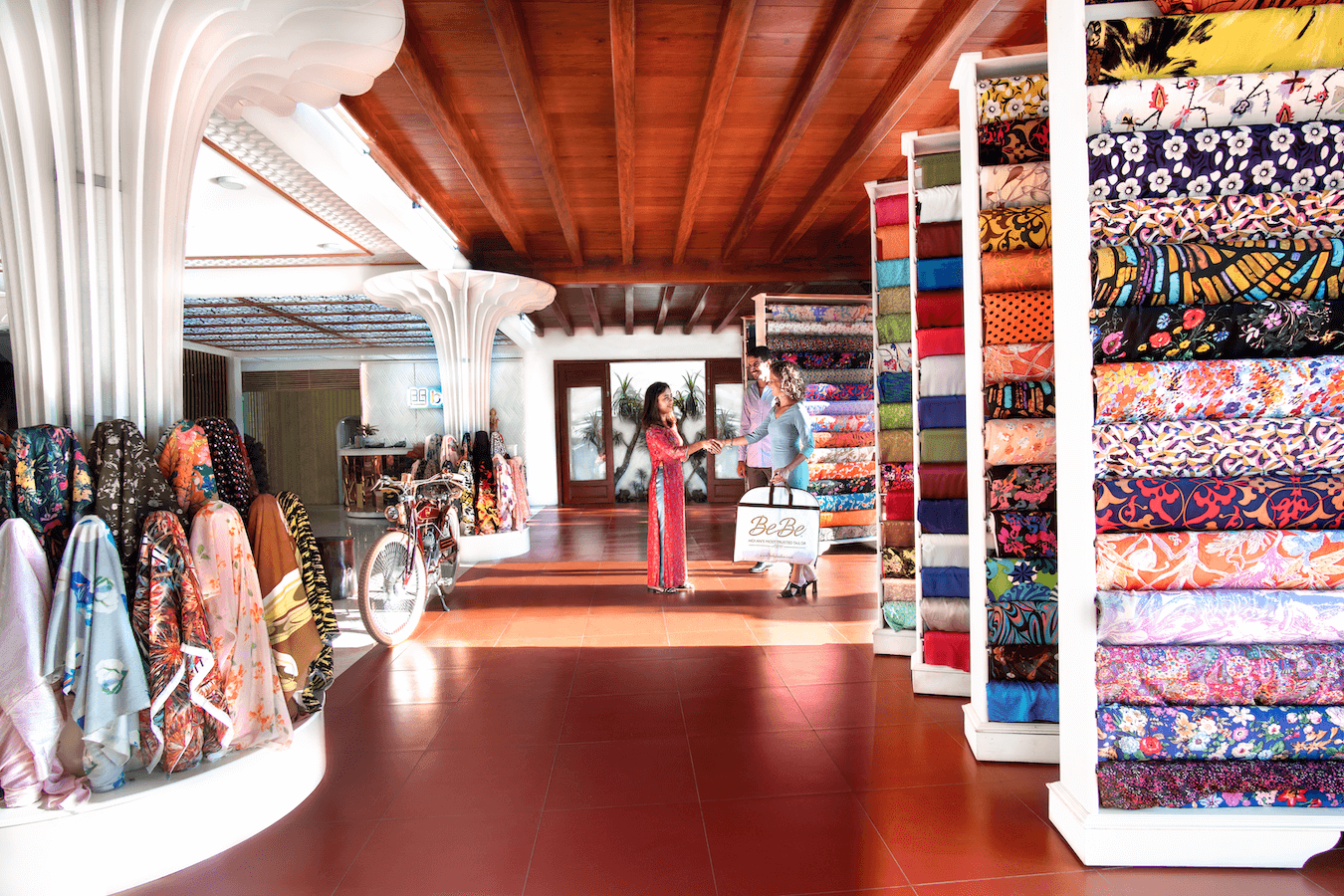 I was even allowed a peek behind the scenes to see the in-house tailors in action. Away from the professional atmosphere of the shop floor, the workroom was buzzing, with every machine rattling away producing everything from coloured shirts to formal gowns.
I can't lie, a suit made in Hoi An does not match the standards of the British Savile Row, but the excellent service cannot be ignored. There's nothing like flying home with your very own Vietnamese tailored clothing and to top it all off, I was even able to have the suit delivered to my Hoi An Hotel!
There are countless tailors nestled in markets and lining the streets and each will attempt to offer you their best work for a discount price. Just make sure you know exactly what you're looking for, be patient, keep your expectations realistic and brace yourself for a pleasant surprise!