When you hear the word Tokyo, it's more than likely your mind doesn't instantly jump to thoughts of holding hands, sunsets and romantic walks.
As a city, Tokyo is perhaps better known for intriguing technology, illustrious anime, interactive cat cafes, fast and fresh cuisine, and a knockout skyline- but there's another side of Tokyo to be explored. This is a city for romance. European cities like Paris and Rome tend to epitomise what we perceive as romantic, but when all's said and done, Tokyo shares some of its best assets and it's clear that cupid's arrow has struck here. From bars that'll leave your heart beaming, to views so stunning you'll want to get down on one knee for the next passer-by, here's why Tokyo is the perfect weekend getaway for young couples and retired sweethearts alike.
GRAB A TABLE FOR TWO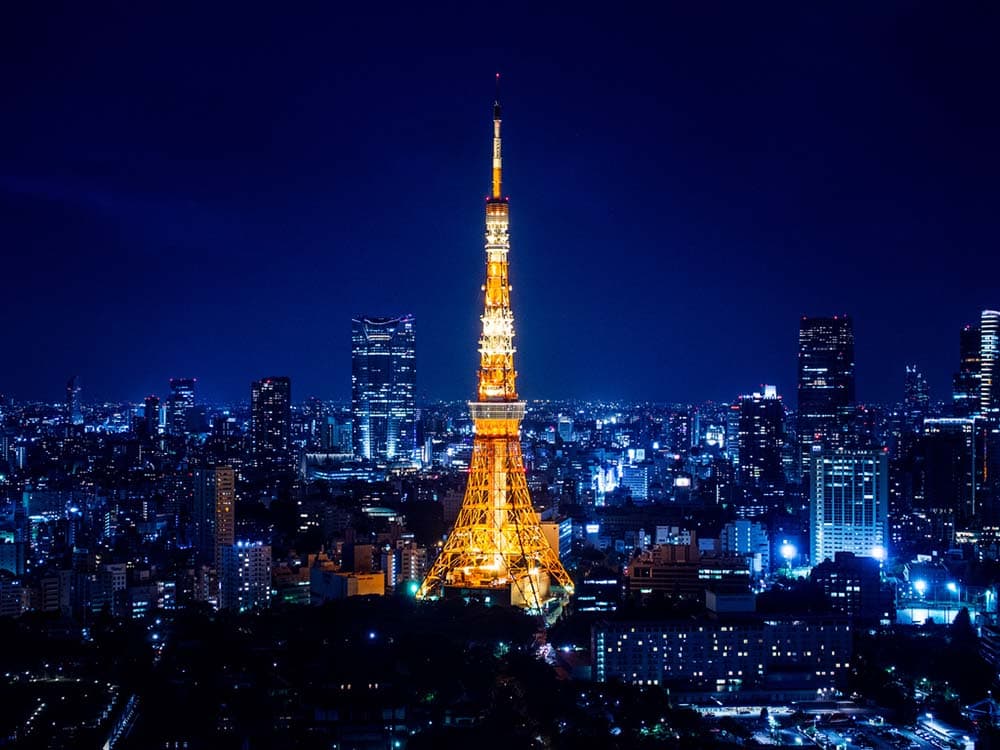 From quirky to spooky, to the unimaginably weird, you're spoilt for choice when it comes to bars in Tokyo. However, if you're looking for a little romance, there are a handful that will really hit the nail on the head. Step through the doors of Majestic Bar and you'll feel like you've just walked into an upmarket bar in the heart of Paris. At 215 metres above the ground, the chilled ambience coupled with the view through the floor-to-ceiling glass windows, will leave you feeling on top of the world. Not only can you enjoy sweeping views of the jagged city skyline, but the Eiffel Tower-inspired Tokyo Tower glimmers and shines boldly in front of you. Kick off your evening of romance with a fruity cocktail or an invigorating glass of champagne with a view to remember. Parisian-inspired views have arrived in Tokyo, and they're only a short walk from Shimbashi Station.
Nothing says romance like a night under the stars, but with the bright lights of Tokyo all around you, you're unlikely to witness a clear, starry night in the city. For a romantic experience like no other, venture with your loved one to the Planetarium Bar. A bar and restaurant immersed in complete darkness, you'll be guided to your seat by torchlight and you'll need the beaming light of a candle to cast your eyes on the menu- dinner by candlelight, what could be more romantic? You can enjoy a hearty meal or just a drink alongside views of swirling solar systems. Gaze upon glittering constellations of stars from the comfort of your table during this unique experience in the heart of Tokyo.
EXPLORE THE CITY SKYLINE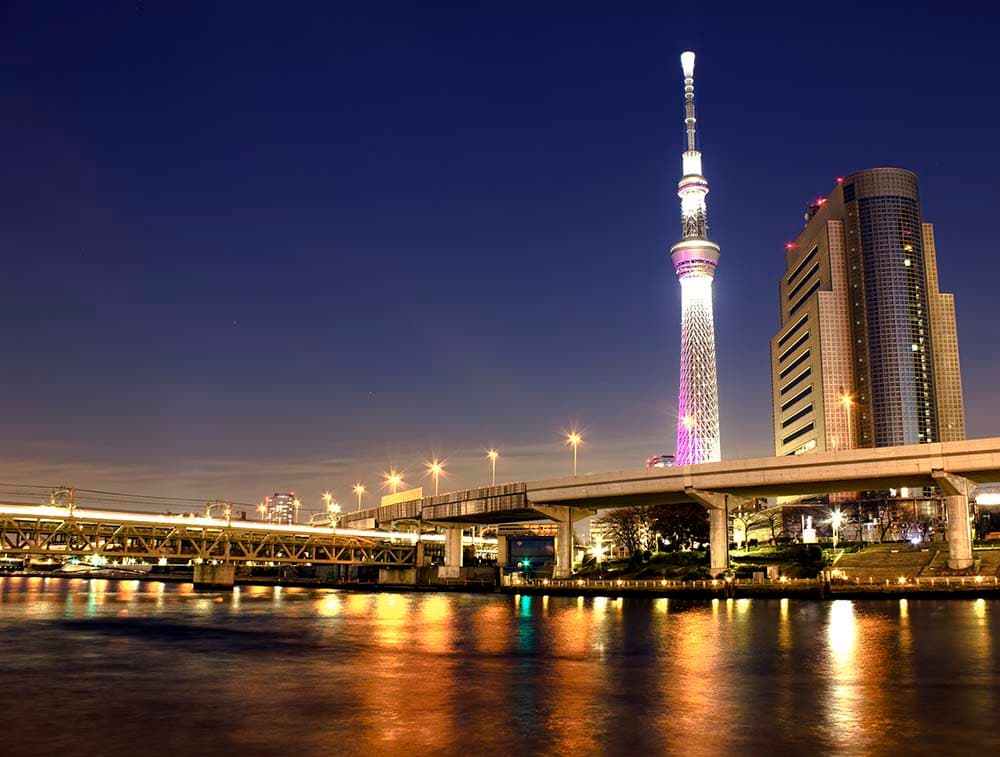 If being outdoors is more up your street, then there are a number of ways to explore the city that will leave you feeling warm and fuzzy. A cruise along Tokyo Bay is an ideal way to take in the city's remarkable skyline. Buildings tower into the sky with an ambient glow and waves of light stretch as far as the eye can see. You can enjoy a mouthwatering three course meal and a glass of fine wine as you gently cruise along the waters of the bay. Admire the city's most striking landmarks from the top deck of the boat as you feel the light breeze running through your hair- you're guaranteed to fall in love with this city.
Some of the top spots to get a spectacular view of the city are from the observation decks of Tokyo Tower, Tokyo Sky Tree and Sunshine 60. However, head over to one of the lesser known spots, Tokyo City View, which is located on the top of Mori Building on Roppangi Hill. It may well be your best chance at catching a private glimpse of the city's skyline without the company of a sea of people shoving for a selfie or obstructing your view with smeary fingers on the gigantic glass windows. It's also one of the best places to catch the sunrise in Asia.
However, if you really want to share the city between the two of you, and you're feeling flush, then the ultimate romantic trip awaits. Take a helicopter tour of the city and see Tokyo from a new perspective. You'll be able to spot the landmarks from above and enjoy views of the Rainbow Bridge and Tokyo Tower from way up high. Once you've returned from cloud 9, it's time to hit the streets below. Tokyo's beach boardwalk is the perfect place to take a romantic evening stroll along the waterfront. The Rainbow Bridge and its spectrum of colour will illuminate your world.
JUST THE TWO OF YOU
A relaxed morning time stroll amongst the beauty of a traditional Japanese garden is certain to be a heart-warming experience for the both of you. Cherry Blossom season is of course the perfect time to visit Japan as you'll witness striking views of both pink and white throughout a number of rural havens, nestled amongst this urban metropolis. Guided cherry blossom tours throughout the city will guide you to the hot spots, but if you're inclined to do it yourself, then Ueno Park, Tokyo's oldest, is an ideal location. If you're in the city over a couple of days, you might be lucky enough to watch the Sakura bloom before your eyes. Take up residence in a Japanese tea house for the day, as many overlook the parks, and offer picture-perfect viewpoints.
If you're looking for something a little more quirky, then hiring a private karaoke booth is always a hit amongst couples. However, let's boost the mood to romance through the addition of a hot tub. Serenade one another with your favourite songs as you enjoy a glass of bubbly, or a traditional Japanese sake amongst the bubbles. Lovenet is nestled on the streets of Rappongi, an area known for its quirky clubs and bars. Another great way to spend a lazy afternoon in Tokyo is to make your way over to Asakusa where you can hire a rickshaw driver- they'll have the language and the local know-how. They'll take you to the must-see sites such as Senso-ji, but more importantly, they'll take you off the beaten track. You'll have some added privacy and a more personal experience.
WHERE TO STAY
Tokyo is home to some of the best luxury hotels in the world, and a trip for you and that special someone wouldn't be complete without somewhere to lay your head at night that simply cries luxury and romance. Your hotel should provide striking views of the stunning Tokyo skyline, and have the home comforts to match. The spacious and exquisitely crafted suites at the Palace Hotel Tokyo offer just this. Contemporary, with distinctive Japanese touches throughout, a stay at this distinguished luxury hotel is the ideal way to round off your weekend in Tokyo, one of Asia's Most Romantic Destinations.