The Maldives is a quintessentially tropical paradise, counting 1,190 spectacular islands with powder-soft white sand beaches fringed by turquoise waters and swaying palm trees. Best known for its breathtaking natural landscapes, rich culture, and excellent dive sites, the Maldives is a one-of-a-kind exotic destination loved by honeymooners and family vacationers alike. Located in the north-central Indian Ocean, at the convergence of ancient trading routes, the Maldives is home to a serene and laid-back lifestyle favoured by many. Due to its outstanding reputation as a destination for indoor and outdoor activities, the Maldives has rapidly been gaining popularity among yachting enthusiasts, and for a good reason too. Embarking on a Maldives yacht charter is the perfect way to fully immerse yourself in its unique island haven while enjoying the best of this nation. Here we share our top five compelling reasons to set sail and explore this exotic destination in complete luxury and style with a Maldive charter.
Delightful Diving
The Maldives is home to some of the best diving sites in the world. You can quickly fill your days by snorkelling or scuba diving through some of the Maldives' 3,000 coral reefs teeming with abundant marine life. The Hukurudhoo Uthuru Kandu is a main waterway that runs through the stunning coral reef of Ari Atoll and is an ideal location for divers of all skill levels. The perfect opportunity to come face to face with various protected species, from whale sharks to manta rays and vibrant clownfish, is a site you'll likely always remember. After a fulfilling and exciting diving experience, unwind on the deck of your charter yacht under the sun while your skilled crew prepares a delectable gourmet feast.
Colourful Culture
If you want to immerse yourself in the local culture on your Maldives yacht charter, consider visiting the breathtaking Amilla Fushi resort in Reserve Baa Atoll. With its luxurious accommodations and fine dining options, Amilla Fushi is the perfect place to indulge in a delicious meal of local foods before heading to the lively cocktail bar for happy hour, complete with a live band and traditional dance show. Experience the unique blend of cultural influences through the Maldivian dance show, which draws inspiration from various civilizations such as Asian, European, Arabic, Indian, and African. After the show, take a romantic moonlit walk along the beach before retiring for the night onboard your private charter yacht.
Magnificent Marine Life
Fantastic dive sites equal the most stunning marine life. The Maldives is known for its diverse and magnificent marine life, which consists of many protected and endangered species, like the hawksbill turtle. In particular, the capital of the Maldives, Malé, is known for its spectacular lagoons in a series of blue tones, home to manta rays, sea turtles and whale sharks. North of Malé, on the beautiful Mudhdhoo Island, there is also an extraordinary and one-of-a-kind bioluminescence phenomenon that glistens in the waters at night. The beach lights up at dusk as if strewn with thousands of stars due to a microorganism known as plankton – a wonderful sight to behold, right out of a fairytale. Afterwards, snorkelling among the stars in the water, enjoy gazing up at the stars in the sky from the comfort of your yacht before bed.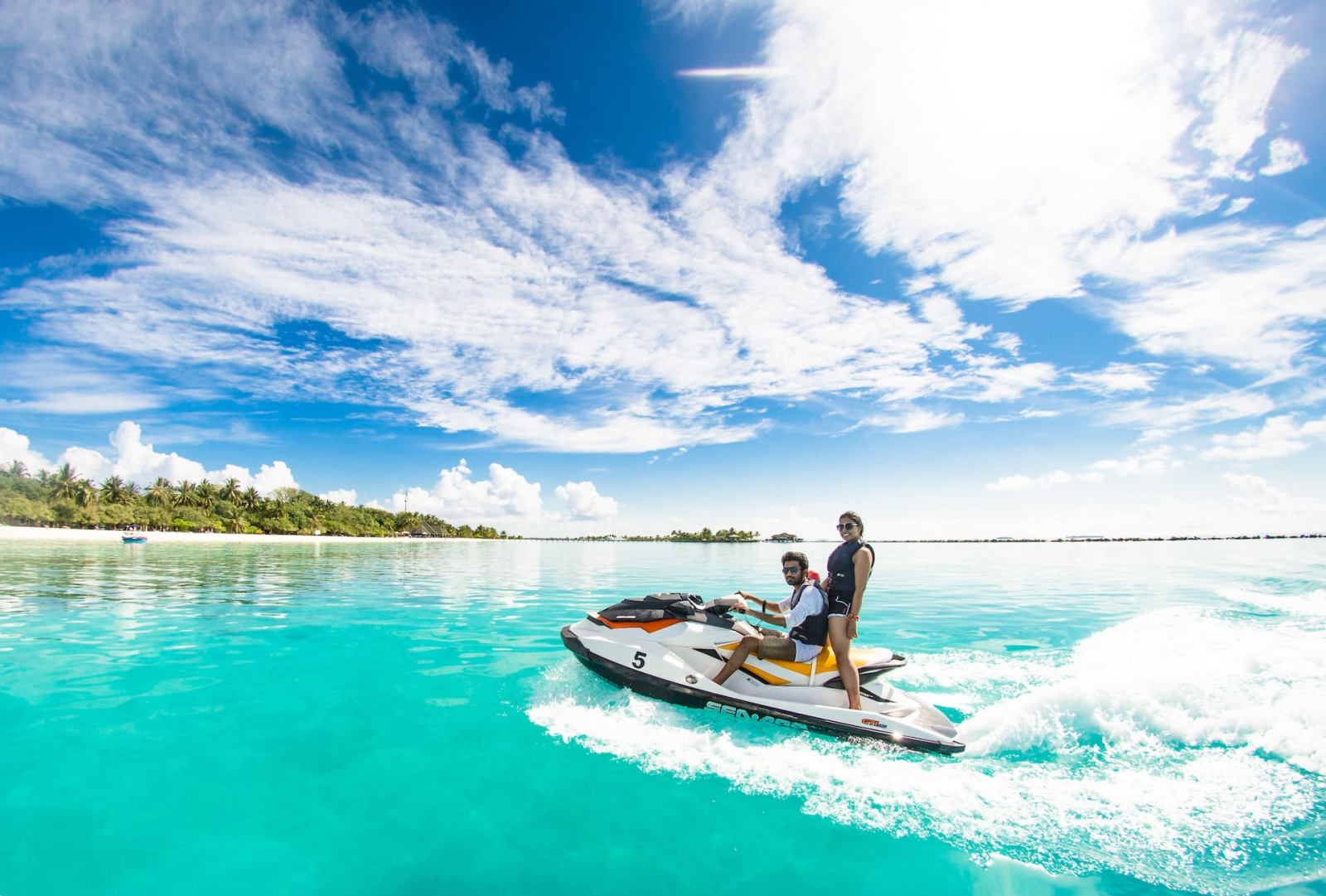 Wonderful Watersports
All watersports enthusiasts will thoroughly enjoy a Maldives yacht charter. The archipelago features many ideal sites perfect for a day of fun and adventures out on the open waters. One is Bandos, a bright coral island that boasts gorgeous white sand beaches, thick green palm trees, and turquoise waters. Known for its calm, warm waters, it's an ideal spot to break out your yacht's water toys and enjoy windsurfing, kitesurfing or paddle boarding. After a day of playing in the water, why not have your crew cook a delicious BBQ on the beach as you watch one of the nation's most beautiful sunsets?
Rest and Relaxation in Nature
Often touted as a dream destination for those looking to unwind and escape from the hustle and bustle of daily life, many visitors love the Maldives for its spectacular natural beauty. One island praised for its pristine beaches and peaceful surroundings is Meerufenfushi. A small island, Meerufenfushi is a great choice for sunbathing, swimming and pure relaxation in nature. A coral island formed by layers of dead and living coral reefs and the remnants of other marine life, this island is also known throughout the region for its stunning green lagoon surrounded by coconut trees. As you relax under the sun, have your crew prepare a perfect picnic for you to enjoy on the shores before taking a walk around the island and soaking up all the beauty it has to offer.