Dancing on bar tops and rock and roll music might not sound all that luxurious but here at luxury-travels.net it's not all about 5-star hotels but also 5-star experiences as well.
UPDATE: Hogs and Heifers NYC is now closed
Unfortunately, Hogs and Heifers NYC closed its doors in 2018. The bar's owner, Michelle Dell, decided to close the establishment after a long legal battle with the building's landlord. The bar's closure was a significant loss for the city's nightlife scene, and many of its patrons were saddened by the news.
Hogs and Heifers NYC was an iconic biker bar that will be remembered for its lively atmosphere, unique decor, and entertaining events. Although the bar is no longer in operation, its legacy lives on, and it will always be remembered as one of the best bars in New York City
My Experience of Hogs and Heifers NYC
Hogs and heifers bar in the meat-packing district in New York offers an experience you will never forget. First tip though, leave your glitzy dress and Prada bag in the hotel for this one, tonight you'll be slumming it.
Inside hundreds if not thousands of bra's hand from the ceiling and a small selection of red leather bar stools line the bar. These stools are so much for sitting on but more to help the adventurous ones among us get on the bar and shake their funky stuff.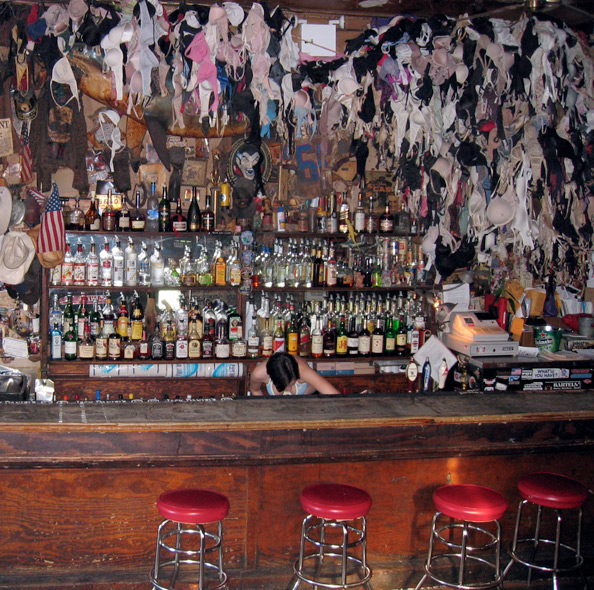 The atmosphere is everything you might expect from a beer-swilling, bar top dancing, biker bar; it's all high spirits, singing, shouting and general frivolities. The best thing though is how little 'judging' goes on. I saw leather-clad bearded bikers arm in arm with the suited and booted of the financial district. If you know the words to a few of the rock classics you will be welcomed with open arms.
The bar staff are full of energy and ooze a theatrical hardness as they joke and flirt with some patrons whilst insulting and mocking others. It's hard not to get caught up in all of the excitement and I found myself doing a slammer of some sort with one of the bar staff (despite not even ordering one).
The bar is not just for drinking at however as both employee and patron periodically get up onto the bar and (sometimes seductively) shake their money makers to the power of the rock ballads. If you ever saw the film Coyote Ugly then you will have some idea of what to expect.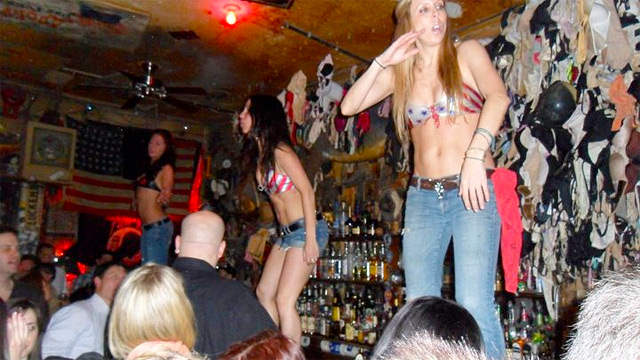 It's a great night out and one of those experiences you are not likely to forget in a hurry. So if you want to see the underbelly of New York City culture I would thoroughly recommend a visit to Hogs and Heifers in the Meat Packing District.
Top tip: Ladies should wear comfy shoes and to fit in seamlessly black would so be recommended. (and take a spare bra if you're feeling a bit crazy)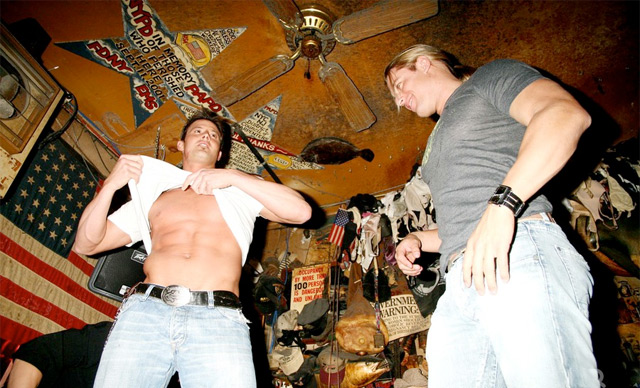 What is Hogs and Heifers NYC?
Hogs and Heifers NYC was a biker bar located in the Meatpacking District of Manhattan. It was opened in 1992 by Michelle Dell, who transformed a rundown space into a lively establishment that attracted both bikers and non-bikers alike. The bar's walls were decorated with bras, license plates, and various other items donated by patrons. It was a place where people could let loose, dance to live music, and enjoy a cold drink.
Atmosphere
Hogs and Heifers NYC was known for its lively and rowdy atmosphere. The bar's interior was decorated with bras, panties, and other items donated by patrons. The walls were covered in license plates, and the ceiling was adorned with bras hanging from the rafters. The bar was always packed with locals and tourists alike, and the live music added to the overall energy of the place.
Drinks and Food
The drink menu at Hogs and Heifers NYC was extensive, with a focus on beer and whiskey. The bar had over 150 different types of beer and more than 50 whiskeys. The bartenders were known for their entertaining antics and willingness to engage with the crowd. There was no food menu at Hogs and Heifers NYC, but patrons could order in from nearby restaurants.
Events and Specials
Hogs and Heifers NYC was known for its themed events and specials. The bar held events such as "Biker Nights," where patrons could show off their motorcycles, and "Ladies Night," where women received discounted drinks. There were also charity events, including the annual "Santa Claus Run," where hundreds of motorcyclists dressed as Santa Claus and rode through the city to raise money for children in need.