You must admit that the vehicle in the image is a magnificent beast. It is something to which we all aspire, but few will ever possess. Touring holidays are not what they once were thanks to the advances in manufacturing techniques and technology. Our mobile homes, whether they be caravans or self-propelled vehicles often feature more luxury than our houses. Designers realised that they needed to pack all modern conveniences into a relatively small space and came up with some stunning solutions.
If you seek luxury travel, there has never been a better time to hit the open road in style. Here are features you can expect to find in the most luxurious motorhomes today.
The Engines
The turbo-diesel engines today are up to the job of pulling these monsters, but even with efficient motors, they consume much fuel. I guess if you can afford to buy a top of the range motorhome, the cost of fuel isn't an issue.
Size Is Everything
It makes sense; the bigger the area, the more you can fit in it. Todays forty-five foot mobile coaches have extendable sides so that when you are on site, you can enlarge the living space at the touch of a button.
Self-Leveling
When you arrive at your destination, computer controlled leveling systems will take care of all the hard work for you. They work on hydraulics or pneumatics, and work quickly and efficiently.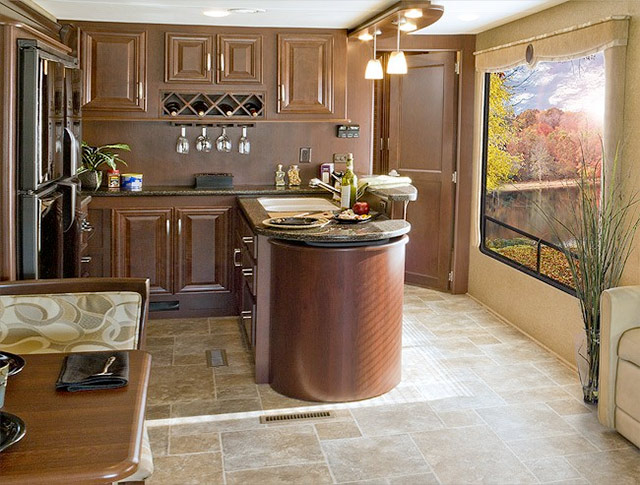 Full Cooking Facilities
I the old days, the vehicles would feature one gas or electric ring to warm food in a saucepan. The latest galleys come equipped with everything you would expect to find in a high-class kitchen at home. The latest Zephyr, for example comes with a full cooker, double sink, and even a dishwasher to make your life comfortable and cut down on holiday chores. The kitchen cabinets come in quality hardwood such as mahogany or oak, and are of superior quality. One famous actor, Will Smith, even has a motorhome with granite worktops. That is what I call luxury!
Bathrooms
The best motorhomes come with two bathrooms. At least one of them will house a full-sized shower cubicle so adults can wash in comfort. Many smaller and less well-equipped units have a shower, but in reality they are of little use.
Security
You need to know that your baby is secure. Top range models have security alarms and immobilisers, so your responsibility is to keep the keys safe. You will find more helpful tips about motorhome security online.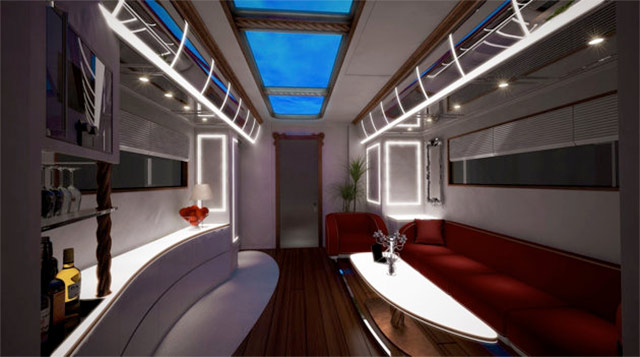 Entertainment
The latest models come with satellite dishes and mobile internet connections, so you never have to miss out on all of the luxuries that you enjoy at home. You can include a home cinema system in the package too; something customers demand these days.
Comfort
Climate control will keep the occupants at a comfortable temperature whatever the weather. Those who suffer from allergies are happy to know that the systems filter the air to remove particles and pollen that may irritate them. The quality of the furniture is second to none too. You will discover a full-sized double bed and singles or bunk beds in other areas.
As you can see, there is no need to compromise the quality of accommodation when you tour; just take it with you. Have a fantastic and safe journey!