Sitting on a terrace, listening to the waves lap the shore, sipping rum and enjoying some delicious spiced Crayfish with a tropical salsa. It's all in a day's work for me as I move from one island to the other, from Anguilla residences to hotels in the Dominican Republic… and I wouldn't change it for the world.
When the list of dream jobs gets drafted up I would definitely suggest marketing Luxury Caribbean resorts as right up there. This privileged position has enabled me to discover various dishes from around the Caribbean from simple fruit punches from street-side vendors to luxurious seafood from some of the world's top chefs. With this in mind I thought I would commit some of my thoughts to the Internet so others can enjoy a taste of the Caribbean. I have hand picked just a small selection of bars and restaurants on just a few of the islands, as there are hundreds of places, many of which serve delicious food, and have fantastic locations. So if you ever find yourself on a culinary quest across the Caribbean here are just a few you should sample.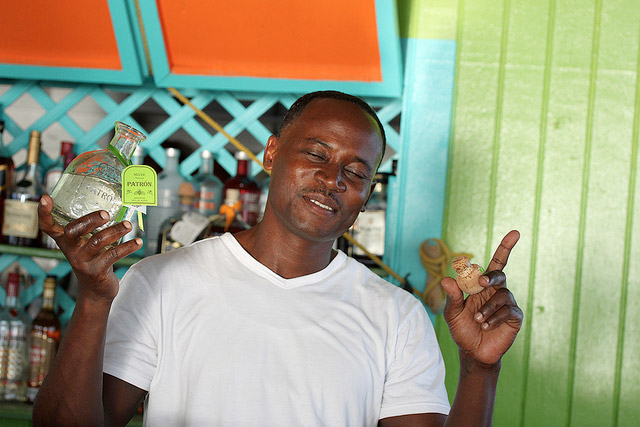 Anguilla
Anguilla is an unassuming island barely the size of Manhattan but is one of the Caribbean's hidden gems. At first sight this perfect island hideaway which is only a 20 minute boat trip from the tumultuous St Maarten seems to quiet to have a multitude of restaurants. Yet, Anguilla is the culinary capital of the Caribbean with over 70 restaurants within its square 30 miles.
For a light lunch or a place to watch the sunset I would recommend the Sandbar in Sandy Ground as it has a great range of Caribbean Tapas and seafood appetisers. Its location right on the beach is the perfect spot to really experience the meal and soak up the amazing surroundings in a relaxed and chilled surrounding. Similarly, the Straw Hat in Meads Bay offers an eclectic mix of seafood dishes that will blow you away as you enjoy the stunning ocean views. Finally for a more formal or romantic evening meal you couldn't do much better than Cobà at the Viceroy Hotel and Resort with its dramatic ocean views, friendly staff and award winning dishes.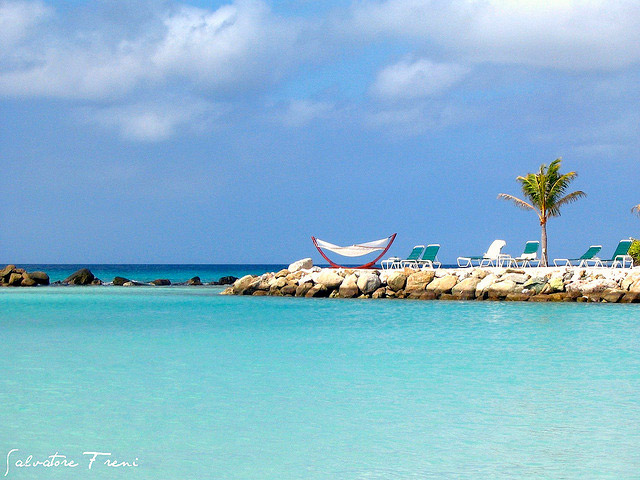 Aruba
Aruba is only 15 miles from the South American coastline and has some of the friendliest people in the Caribbean. At double the size of Anguilla and having a population that includes 80 nationalities making the food on the island an amazing mix of styles and fusions.
The first place you should book when visiting Aruba is Carte Blanche as this place can be booked up weeks in advance. This wait is with good reason as this is definitely a restaurant for people who love food. The whole experience is intimate and exclusive as Chef Dennis cooks each of the 15 guests a fresh and well-considered meal right in front of your eyes. Each delicious dish is complemented with recommended wines to ensure you have a taste sensation and a fantastic evening. If you like great Caribbean food in a rustic and friendly setting then complete your horseback beach ride with the traditional fare at Costa Riba. Although it is a little off the beaten track the owner Kamini will make you feel at home in seconds and cook you up a storm. Passions on the Beach in Eagle Bay is literally on the beach as each of the tables are placed directly on the beach so you can feel the sand between your toes as you each. The food is a fantastic collection international cuisines and amazing fusions such as coconut crusted groupers with a sweet banana dipping sauce. This is a fantastic place for a long meal as you watch the sunset of the crystal clear waters.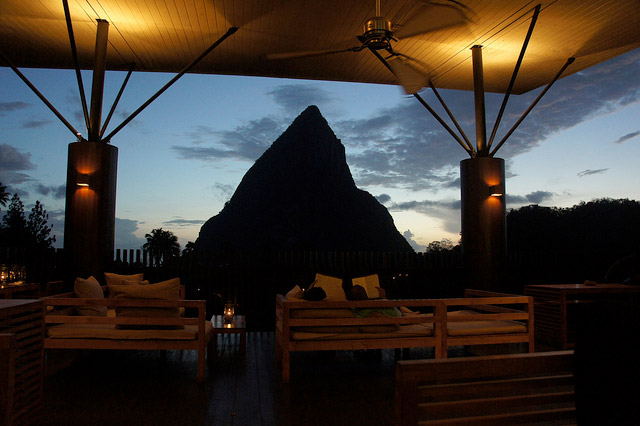 St Lucia
St Lucia is one of my favourite islands in the Caribbean as the typography is awe-inspiring and visitors can trek through deep rainforests and then emerge at a secluded cove and cool off in the clear turquoise waters. The islands also enjoy a plethora of restaurants from romantic dining to family friendly bars. The first port of call for chocolate lovers (and who doesn't like chocolate) has to be Boucan Restaurant & Bar at the Hotel Chocolat. Their unique menu offers a range of foods that all have chocolate infusions in both obvious and hidden ways. For a more traditional Caribbean selection then you can't go wrong with Froggie Jacques (or Jacques Waterfront Dining to give it its official name), which is ideally situated, on the marina overlooking the water. With a huge selection of seafood coupled with great service and friendly atmosphere Chef Jacques and his wife Cathy offer a unique and fresh French Mediterranean menu with a Caribbean twist. If it's elegance and grandeur you are after then fine dining at The Great Room at the Sugar Beach (formerly the Jalousie Plantation) is perfect. Despite being on the expensive side the food, presentation and service is all reflected this cost. The stunning dishes are meticulously prepared by their award-winning chef and are lovingly presented to ensure the first taste truly is in the eye.
These are just a small 'taste' of the culinary experiences on offer on the myriad of Caribbean islands and throughout my travels I hope to offer my opinions of many of the fabulous restaurants in the most stunning region on the planet.
Image Credits:
Related articles